Mercy Relief's 2nd phase of disbursement operations aid farmers in the Municipality of Esperanza in the Masbate Province to recover and rebuild their livelihoods after their crops were destroyed by Typhoon Hagupit.
Areas of MR's operations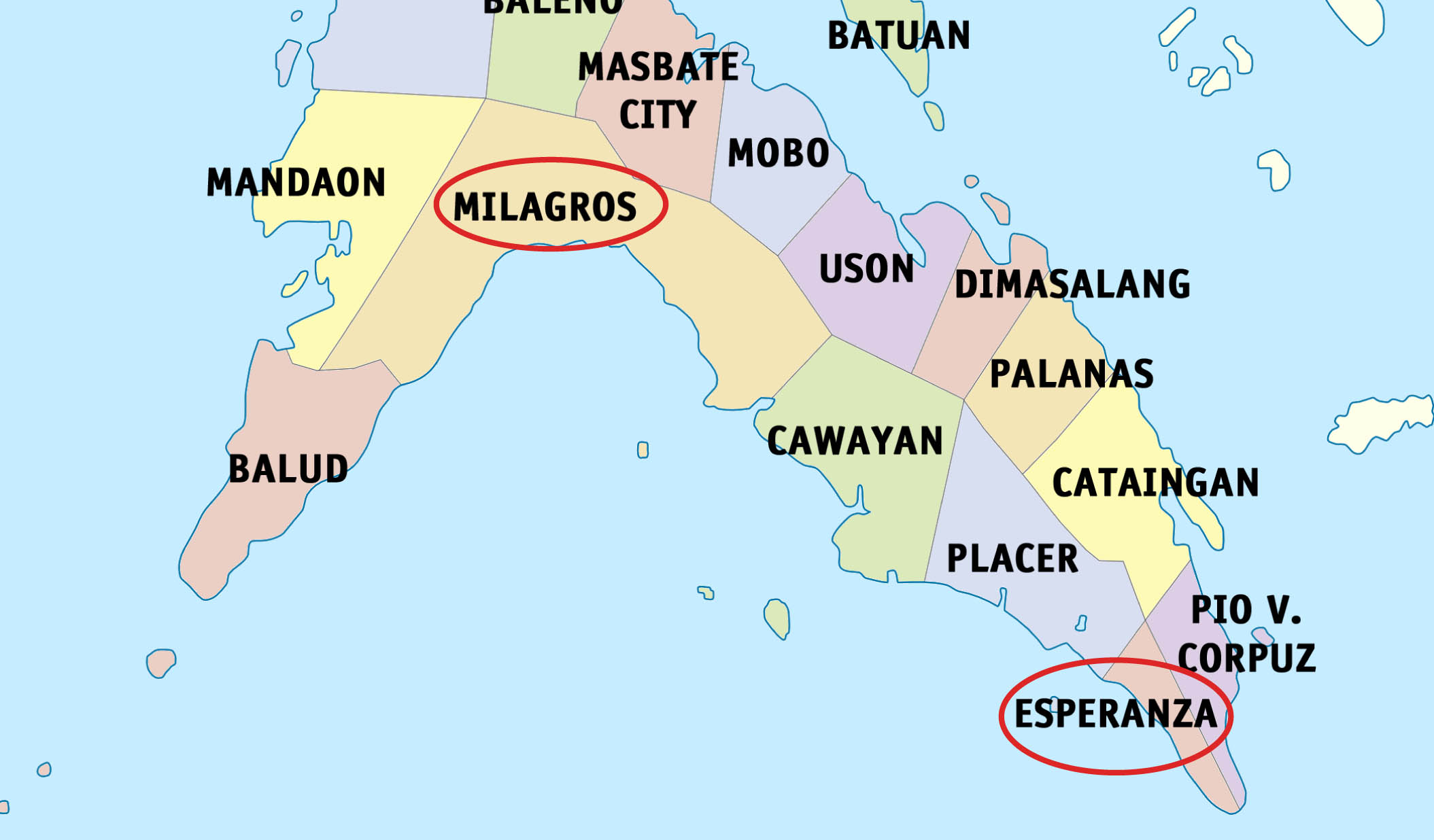 The most intense tropical storm of 2014, the typhoon caused extensive damages to infrastructure, homes and ruined the sustenance of farming communities, especially those living in poverty in remote areas. Modest financial resources and the risks these communities face in a region prone to natural disasters increase their vulnerability to economic and psycho-social instability.
Planting the seeds of Empowerment
From 26 to 29 December, MR engaged in relief operations at four barangays, namely Barangay Poblacion, Barangay Masbaranon, Barangay Agoho and Barangay San Roque. A total of 140 farmers from 13 isolated barangays came to receive much-needed aid. The MR team distributed 1000 kg of white corn seeds. 55 hectares of corn farmlands were destroyed by Typhoon Hagupit in Esperanza, where white corn is farmed and consumed as an everyday staple food in place of rice. MR also distributed 140 New Year food packs.
In San Roque, where the typhoon destroyed almost four hectares of vegetable farmlands, the MR team also distributed 11kg of varied vegetable seeds and 2000kg of fertilisers to 20 vegetable farmers who sustained the worst agricultural losses. Crops have either died, or is yielding 50% lesser than before the typhoon, thus increasing the urgency for replanting.
Explaining the importance of aid for communities to regain their sources of income, MR's Chief Executive Goh Chin Siang says, "Further to providing humanitarian aid for immediate survival needs, Mercy Relief aims to empower communities by helping them to reduce the impact of natural disasters and mitigate hazards. Our operations provide people with the capacity to generate sustainable income opportunities designed to improve their living conditions in the long run."
Map of Typhoon Hagupit Path (MAP: UN OCHA)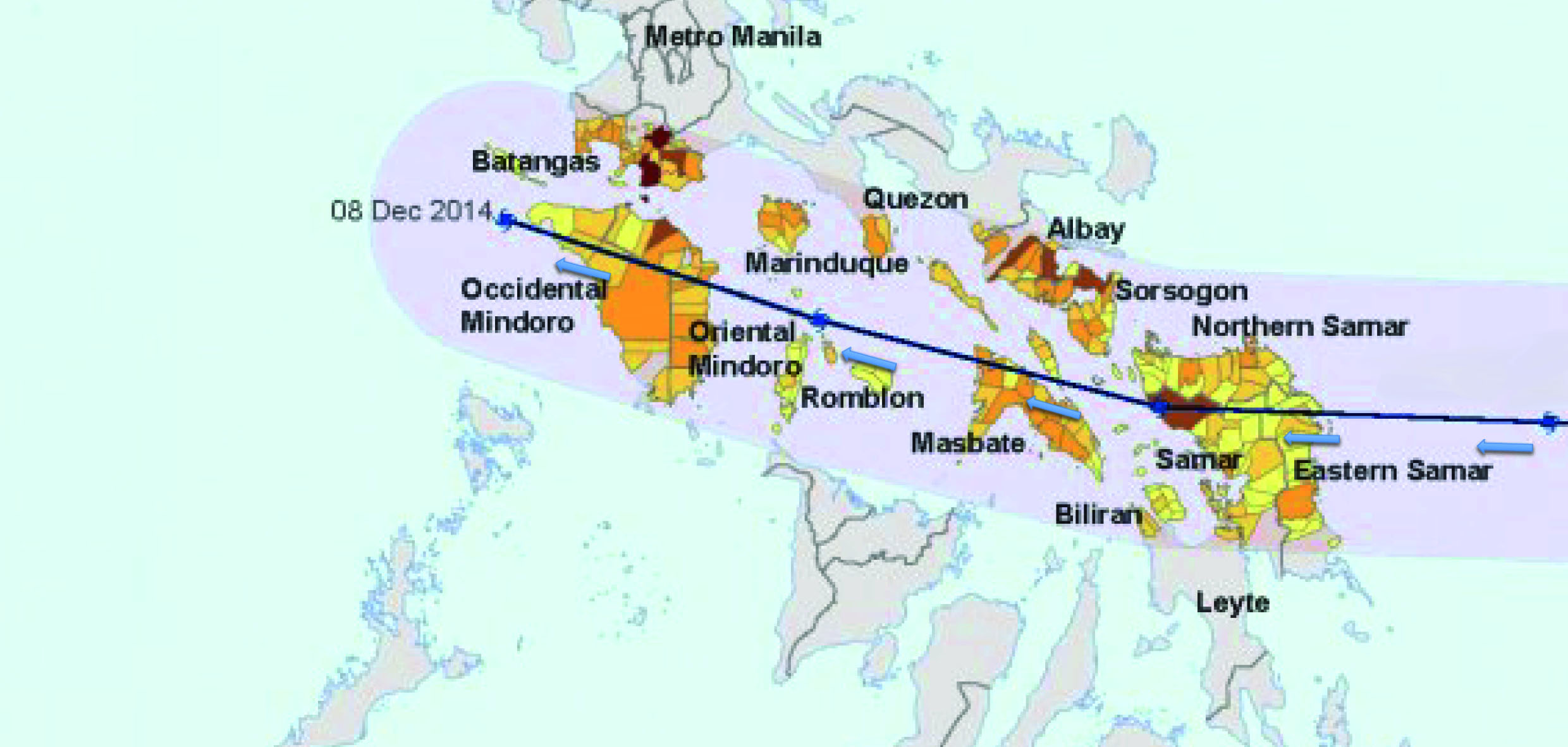 Immediate Survival Needs
On 11 December 2014, MR deployed its relief team to the Masbate Province within 24 hours of an appeal for assistance from its ground partner to aid Typhoon Hagupit survivors. MR disbursed its initial tranche of relief assistance worth $30,000 in the Masbate Province, where a state of calamity was declared. The most severely affected communities were located in areas that presented challenging logistical obstacles for relief operations.
Immediately after Typhoon Hagupit left the area, people in the Masbate Province continued to face more difficulties as strong tropical rains slowed them from returning to their jobs – fishing and agriculture. These families were located in the coastal communities of Barangay Calumpang, Barangay Tigbao and Barangay Poblacion, and in the upland communities of Barangay San Antonio, Barangay Sawmil and Barangay Matagbag in the Municipality of Milagros. From 12 to 16 December, using humble means of transportation on dirt tracks, traditional Filipino Banca boats between islands, and making repeated trips to and from Masbate City, MR's team was able to disburse relief items of immediate survival needs and hygiene kits to over 2000 families in these remote areas.
MR has been implementing relief and development projects in five areas across the Philippines – Bicol Region, Metro Manila, Mindanao, Zambales and Visayas – continuously since 2006 as part of its disaster risk reduction efforts in line with the Hyogo Framework and AADMER. Visit www.mercyrelief.org to read more on "MR in the Philippines".
In response to Typhoon Hagupit, MR also activated a nationwide public fundraising appeal in Singapore from 11 December 2014 to 31 January 2015.
About Mercy Relief
Mercy Relief is a Singaporean humanitarian organisation which engages in both disaster relief and sustainable development programmes. It was established in 2003 as an independent non-governmental humanitarian charity responding to the human tragedies in Asia. Mercy Relief's aid programme focuses on providing timely and effective assistance to disaster-stricken communities and has maintained the delivery of emergency aid within 72 hours from the point of appeal for assistance. 
In the past 12 years, Mercy Relief has disbursed over S$32 million in aid across 40 disaster relief and 53 sustainable development initiatives. Mercy Relief has impacted an aggregate of 2 million lives in 24 countries and areas, namely Afghanistan, Bangladesh, Cambodia, China, DPR Korea, India, Indonesia, Iran, Iraq, Japan, Laos, Lebanon, Malaysia, the Maldives, Myanmar, Nepal,  Pakistan, Palestine, the Philippines, Sri Lanka, Taiwan, Thailand, Vietnam and Yemen.
For more information, you may call us at 6514 6322 or email corporateaffairs@mercyrelief.org