Disasters show no mercy. But you can.
Celebrate the indomitable human spirit.
When disaster strikes, it is easy to see those affected as victims: desolate, destitute, and defeated. Here at Mercy Relief, we see things differently. We see people coming together to help one another, fight back, and protect their way of life. We witness their indomitable spirit, and are committed to supporting it.
Stay on top of the latest news from Mercy Relief.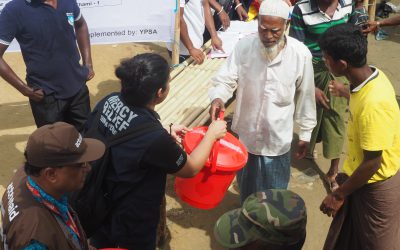 SINGAPORE, 10 October – MERCY Relief, Singapore's leading independent disaster relief agency, is on the ground working with local partners in Bangladesh, where 519,000 people have settled since 25 August.  These affected communities have been displaced after fleeing... read more
25
countries Mercy Relief has been active in
72 hours
time within which emergency aid is delivered, from appeal to assistance
S$33.3 million
funds disbursed up to 2016
63
disaster relief operations executed
50
sustainable development programmes implemented
Thank you for being part of our collective journey in 2016
Our community has shown so much generosity and care for our neighbours in need when disasters strike. From all of us at Mercy Relief, we want to thank you for your ongoing support in making our work possible. We've gathered some of our favourite moments from the year as a snapshot of our growth, that we want to share with you.
View our 2016 highlights
Partners play an important part in adding to Mercy Relief's resource capacity and network. They also help us get better at what we do.
Connect With Us
Follow Mercy Relief on social media.
Stay Informed
Keep up to date with the latest at Mercy Relief. Sign up and we'll put you on our mailing list.