Singaporean humanitarian NGO, Mercy Relief (MR) will deploy a 2-man preliminary disaster response team to Kathmandu, Nepal, to ascertain ground needs and procure initial batch of relief supplies. MR will dedicate an initial tranche of SG$60,000 to acute relief efforts.
On Saturday 25 April 2015, an earthquake measuring 7.9 magnitude with a 15km depth struck in Lamjung, Gorkha district 81km northeast of Kathmandu at 1156 hrs. At least 18 aftershocks have since been recorded. 2,000 deaths have been confirmed and the number of injured stands at 4,718 (at time of release). The government of Nepal has declared a state of emergency and appealed for international humanitarian assistance.
Mercy Relief's focus will be to address the pressing needs for shelter, medicine, food, water and hygiene kits.
Explaining Mercy Relief's upcoming operation for the mission, Chairman Michael Tay says "From experience, we are directing our acute relief efforts at shoring up the supply and distribution of shelter, food and water for the survivors". He further adds "Mercy Relief's rapid response team will have boots on the ground on Monday where a more comprehensive assessment of the needs of the affected communities will determine how we can most effectively assist with their immediate recovery."
Mercy Relief will also launch an urgent appeal for donations nationwide for the victims of the quake beginning 27 April 2015.
Affected areas of the Nepal Earthquake (MAP: US AID)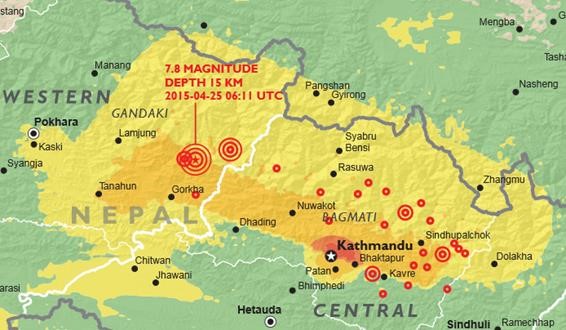 About Mercy Relief
Mercy Relief is a Singaporean humanitarian organisation which engages in both disaster relief and sustainable development programmes. It was established in 2003 as an independent non-governmental humanitarian charity responding to the human tragedies in Asia. Mercy Relief's aid programme focuses on providing timely and effective assistance to disaster-stricken communities and has maintained the delivery of emergency aid within 72 hours from the point of appeal for assistance. 
In the past 12 years, Mercy Relief has disbursed over S$32 million in aid across 40 disaster relief and 53 sustainable development initiatives. Mercy Relief has impacted an aggregate of 2 million lives in 24 countries and areas, namely Afghanistan, Bangladesh, Cambodia, China, DPR Korea, India, Indonesia, Iran, Iraq, Japan, Laos, Lebanon, Malaysia, the Maldives, Myanmar, Nepal,  Pakistan, Palestine, the Philippines, Sri Lanka, Taiwan, Thailand, Vietnam and Yemen.
For more information, you may call us at 6514 6322 or email corporateaffairs@mercyrelief.org